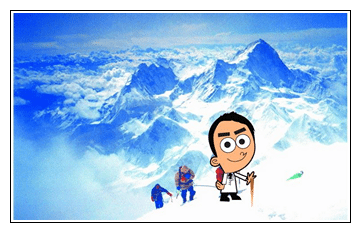 Your Study Buddy
More about Dr. Azulene, Resident Lecturer

Does it trivialize matters that a cartoon is our spokesperson?
Not really. Gaining true mastery over learning objectives is essential. The medium isn't as important as the substantial half of students who can't even get started doing actual work in Organic Chemistry. It's so bad many cannot begin to formulate questions. Students don't realize (often too late) they are suddenly playing from a different sheet of music than what they assumed their prerequisites were like. Name recognition and casual attitudes in lecture, in a completely cumulative course, often snowballs into devastating consequences on you, your transcript and future career.
We can change this. Most students major issue with the subject is that they can't do the work themselves given what they are told. They have fits and starts. I know I was there, as every one was. No one just gets it by themselves except when the study, the instructor, the book, and all other resources are optimal. Almost never does this just happen perfectly.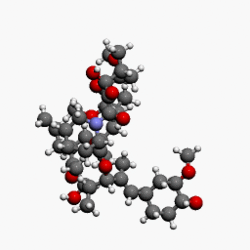 Since graduate school (building the molecule above was my research) I've wanted to not just involve myself in higher education but to change it. And after much soul-searching and seeing where the common roadblocks are, we are at the threshold of our plans. Building new tools as I speak, this is not just a website, much more is coming.
Times change and so does the arsenal of tools available. We think it's best to capture attention first, then say what you want. That's what our tutorial database is designed for: flexibility and diversification of presentation. Dr. Azulene is here remind ourselves that learning is and should be enjoyable, even fun.
Together, we envision creating making the subject accessible to all. And some things we are planning aren't possible and not as memorable within the confines of reality.
A cartoon character with a story to tell has no confines. So we're making content to deliver the highest quality imagery. Channeling as many learning approaches (seeing, hearing, doing) as possible, we realized it doesn't make one iota of difference how you come to understand something, and the more approaches the better. In this subject, it's a matter of gaining foundations quickly. Anyone can learn this. As many students who've had to take multiple times understand, or conversely, those who'd been told about the challenge, audited the course (took it beforehand without receiving a letter grade) in preparation to beat the curve (stereotypical overachievers), it is a matter of the right exposure and without that, it just takes longer…and a lot more money. That's the difference between successful students and those who don't fare so well.
Something we hope you will strive to be as you learn this complex and ultimately intensely rewarding subject (when or if it "clicks"), is Dr. Azulene. He is quirky, resilient but most of all curious and totally incapable of half-understanding. He questions everything no matter how "stupid" it feels to ask. Looking foolish is better than being foolish, as he always says, and to ask obvious questions that don't make sense, no matter how many others around you seem to get it is to everyone's advantage. If you don't get it often most others don't get it either and are relieved when someone has the guts to speak up.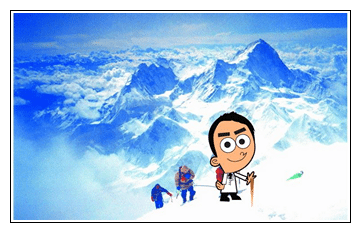 After the culmination of decades of combined interactions with students, this database is growing faster. We are a small team that intend to make a virtual tutor reality. With great people you can do great things. Ours is a work in progress, as you can see, so join us, contribute, and let's grow together.  Your feedback is welcome. Enjoy the updates to the website.
Students major problem with the subject is that they can't start to do the work themselves. Being on the other side, working and attending graduate school in organic chemistry in upstate New York, was an nurturing oasis of collegiality and truly opened my eyes. I was obvious why students have difficulties in the course (see other posts).
Effectively teaching the subject demands more personalized attention. That's difficult or impossible in a lecture hall of hundreds. Thus, hiring a tutor, often the first piece of advice you'll get is the best action to take. Not because you need someone to to things for you, but to reach the point where you understand what is important, and what are a bunch of details memorized for no reason and inevitably forgotten anyway. Reach the big picture. You can do it.
As an educator in the subject of Organic Chemistry for 14 years in numerous settings, I understand the problems and challenges students face. That's why we're excited and hope you will participate.
The practice of teaching organic chemistry is still largely unexplored. Failure rates and declining professional school applications prove it. We know learners pick up skills and fare better when they're presented at the proper pace–not someone else's. We know and expect benefits from a multi-dimensional approach. Join us, give us your feedback and eventually say, without hyperbole, that you played a role in reshaping science education for everyone.
To your success,